Weekly diary 2023 Fabrico
A simple ring-bound diary
40 %
%On sale now
-40 %
The flexible ring diary for lovers of simplicity works by itself and at the same time fits precisely into our fabric covers, which will protect it all year round.
format

: smaller A5 (13 x 18 cm), ideal for a handbag

calendar

: weekly - week on the left, free page for notes on the right

paper

:

80 g/m² • natural white • Munken paper has the Cradle to Cradle certificate, which guarantees origin from sustainable forestry, as well as the quality and reusability of the material and fair treatment of employees

binding

: ring, the most flexible of the bindings

facts: Fabrico diary was originally primarily used as a filling for a cloth package, but more and more customers have come to like it just like that. You can decorate its simple boards with, for example, washi tape or stickers.
ecology

: The diary was made in the Czech Republic from environmentally friendly materials.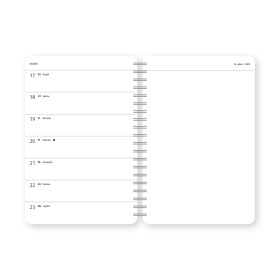 40 %
%On sale now
-40 %
40 %
%On sale now
-40 %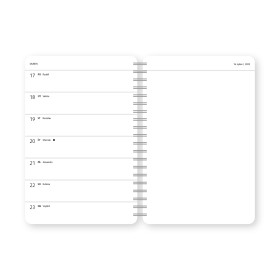 40 %
%On sale now
-40 %
Free shipping for this product
You can find similar products in: